BACK
Susan Elliott
Taking inspiration from the cupboards of the nation.
 Since moving to St Leonards from London, in 1999 Susan Elliott has combed every second hand shop, car boot sale and charity shop for the sort of seaside tat and domestic crockery that most of us wouldn't give a second glance. Her studio teeters with piles of tourist mementos, slogan emblazoned mugs and ceramic figurines, in what looks like a chaos of china, but is in fact a carefully archived resource of found materials which are at the heart of her iconic portraits, flags and 3 dimensional works.
Taking her inspiration from popular culture, national identity and lately folklore, Susan uses recycled kitchen crockery and mementos to create multi faceted, jewel- like images which hide a wealth of commentary and humour, in fact for owners of her work the joy is in the detail, in the clash between the kitsch of sugary sentiment and carefully selected and precisely clipped words or a well placed political badge or oddly juxtaposed corporate tag line. Above all Susan's work is both comfortingly familiar and at the same time completely original.
 Susan comments 'There is a lot going on in my work! My studio is like an archive of the nation's mantelpieces and an affectionate collection of the kitsch and the idiosyncratic within which I think there is an inherent beauty. People will often spend a long time looking at a piece of my work, discovering familiar objects which come with their own attachments and finding new connections and meanings. I like to take the familiar and place it into a new context by association with other objects or statements'
 The end piece of work created is determined in large part by the materials found which often inspire the theme of a subject.  Each piece is crammed full of many individual pieces of ceramic from an extensive selection of Susan's compulsively collected treasures.
Susan Elliott lives and works in Hastings, East Sussex. Her work is shown regularly with Mauger Modern in London, The Bowie Gallery in Devon and Bugno Art Gallery in Venice, Italy, and her works are held in private collections in London, Paris, Venice, New York, Tokyo, Toronto, Amsterdam, Copenhagen, Hong Kong and Miami.
Buy Susan Elliotts artwork today.
READ MORE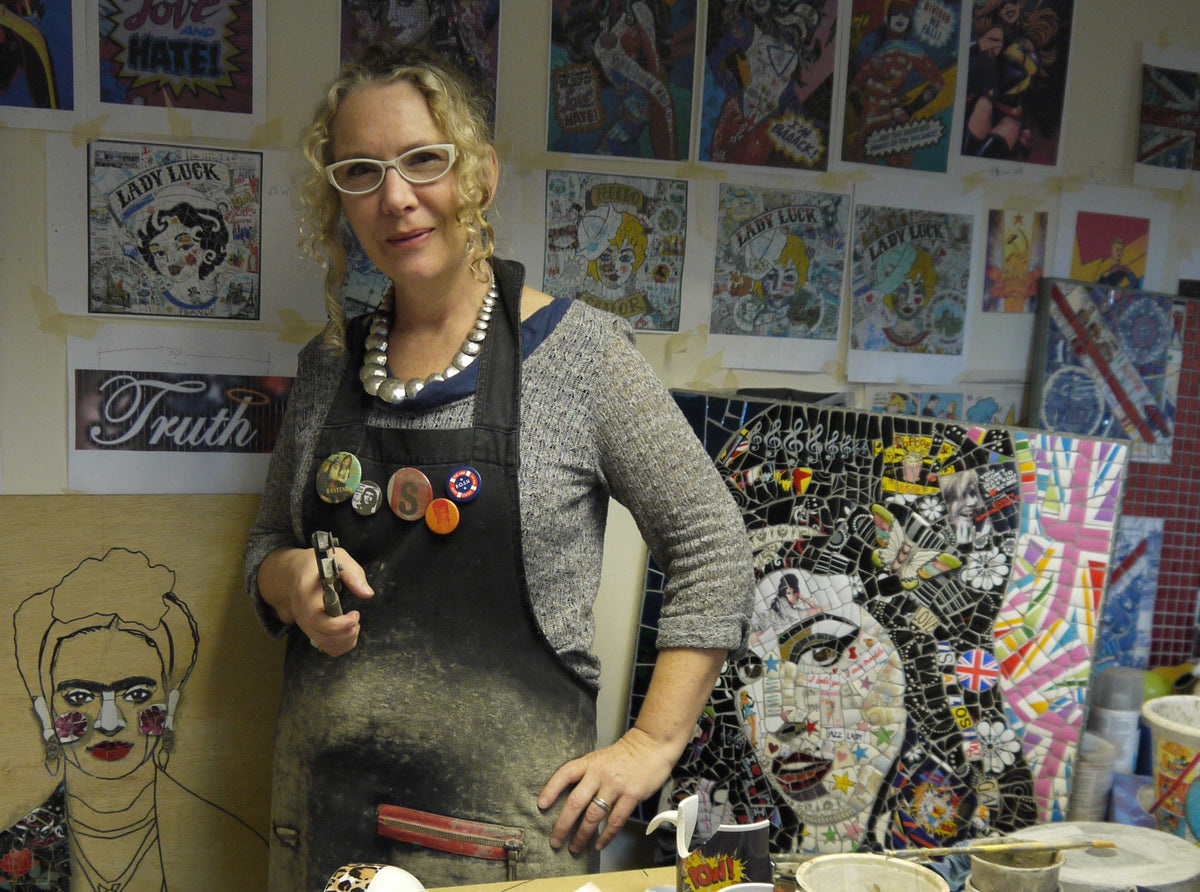 Available Artworks